A Multimedia Internet Publishing Company

MailSteward
The Ultimate Mac OS X Email Management Solution. Safely archive all of your vital email in a relational database. Easily access your email database with fast, sophisticated searching. Protect your essential email data from data format obsolescence.


PixSteward
The essential Flickr backup and database for Mac. PixSteward downloads pictures and metadata from your Flickr accounts and archives them in a relational database on your local computer, allowing offline searches and image exporting.


FileMyFiles
The essential file management utility. Clean up your Desktop with one click. One click copies essential files to your laptop for traveling. Powerful options to change all the file/folder names in a folder. Uninstall and Remove applications and all of their related files and folders. Selectively delete just some of the files and folders From the Trash. Schedule FileMyFiles to keep all of your important folders organized.


WordWrapper
Simple, Intelligent Removal of "Hard" Carriage Returns. WordWrapper replaces the returns with a space so your word processor can easily reformat your text. It'll work on any text file, or you can word-wrap the clipboard, or drag text files onto the WordWrapper application. It's intelligent enough to recognize paragraphs and to leave the carriage returns where you want them.


O'Carolan, Songwriter
A unique collection of O'Carolan's songs, with lyric adapted from O'Carolan's original Gaelic into English song form by Candace Corrigan and Janne Henshaw, featuring arrangements by Sarah Wilfong, and performances with traditional Irish musicians and instrumentation.

The Love I'm In
Candace Corrigan's new CD, The Love I'm In, has been released. Twelve original songs written and sung by Candace, accompanied by Nashville's finest in an eclectic array of musical styles.
Listen to MP3 samples, at
candacecorrigan.com
. While you're there, sample her other two albums, Talkin' to a Tennessee Moon and Through a Woman's Voice. Also check out her
videos
and her blog,
The Tennessee Music Blog
.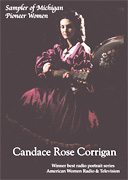 Sampler of Michigan Pioneer Women Download
The Twelve portraits on the Sampler of Michigan Pioneer Women Dowload was produced for Michigan Public Radio as a 4 part series, based on letters, diaries, autobiographies, speeches and stories collected in the oral tradition.
Click here for a free downloadable PDF file
containing lyrics & curriculum guides.
This 183 MB download contains:
Disk One: Making a Home & Making a Living
Disk Two: Making a Difference & Making Changes
Disk Three: Ballads only of 12 women whose stories take place in Michigan 1790- 1920.
Disk Four: Curriculum ideas for grades 4-8, sources, credits & lyrics for 12 ballads.
Winner: Best Radio Portrait from American Women in Radio and Television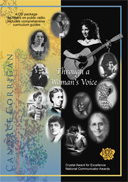 Through a Woman's Voice 4 CD Set
The Twelve portraits on the Through a Woman's Voice four CD set consist of narrations and original songs by Candace Corrigan based on women's diaries and stories collected in the oral tradition, from early settlement and the removal of the Cherokee, through the civil war, to civil rights, 1779-1959.
This package contains 4 CD's:
Radio portraits: The Revolution through the Civil War
Radio portraits: From Suffrage through Civil Rights
The ballads written & performed by Candace Corrigan from primary & secondary sources
Comprehensive curriculum guides by Dr. Carole Bucy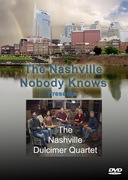 The Nashville Nobody Knows Presents The Nashville Dulcimer Quartet DVD
The Nashville Nobody Knows
, once a popular audio podcast "featuring Great music, usually found outside the mainstream media machine", before it was shut down by
Sound Exchange
, presents its first video documentary,
The Nashville Dulcimer Quartet
, with David Schnaufer. The program includes interview and live performance of this unusual and talented quartet, as well as historical background on the appalachian dulcimer. A must for any appalachian dulcimer enthusiast.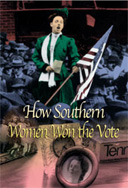 How Southern Women Won the Vote DVD
A musical documentary of the final battle to win voting rights for American women.
To become law, the 19th amendment had to be ratified by 36 states. By the summer of 1920, 35 states had ratified, but efforts to win the final state met with repeated failure. On August 15th, 1920, all eyes were focused on the Tennessee state legislature - the last hope of success. Sweltering inside the Capital building, legislators were deadlocked in a 48 to 48 vote. The fate of all future American women hung in the balance...


The Tennessee Music Blog
Candace Corrigan's once-a-week blog about being a/singer/songwriter/playright in Middle Tennessee. Includes a short essay about whatever strikes her fancy, usually some photographs by John Seward, and an mp3 of a song from her vast catalogue of musical creations.


Nick's Tech Blog
On Nick's Tech Blog, subject matter ranges from general observations about UNIX, Apple, Microsoft, and the internet, to specific info about Cocoa, Perl, Objective-C, OS X, UNIX, to reviews of software and hardware, and anything else of a technical nature that he learns which might be of interest. Some of it is for geeks only, and some for all serious Mac users.